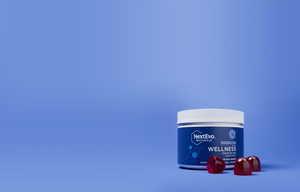 Our 4x better absorbing CBD gummies are a tasty, discrete and fun way to enjoy CBD benefits on-the-go!
CBD Gummies
Discover the NextEvo Naturals range of CBD Gummies, crafted for easy consumption and fast absorption thanks to our proprietary SmartSorb™ technology allowing more CBD to be delivered to your body and for you to feel the benefits in a shorter space of time.
NextEvo's Premium Pure CBD Gummies are made in the USA with all natural ingredients. These vegan CBD gummies do not contain gelatin and are gluten-free. Each gummy contains a precise dose of 10mg SmartSorb CBD with 4x absorption, so can take less to get more CBD.
Our CBD Gummies use only the finest, bio-available ingredients available that have been directly backed by clinical evidence and really help you to achieve your goals and push your boundaries, whatever they may be.
Health Benefits of CBD
Gummies will provide you with all the benefits of water-soluble CBD in an easily digestible, highly bioavailable form with the added bonus of refreshing flavors. They are fast acting and able to support you in the following areas:
Mood
CBD is well-known for reducing occasional stress as well as having calming and relaxing properties, it can help support and improve your general mood.
Healthy Sleep
CBD may promote sleep quality and duration at night, while promoting wakefulness during the day. It could also help diminish the stress that affects you from falling asleep in the first place.
Immune Function
Evidence suggests that CBD supports the immune system by maintaining a healthy gut microbiota, and calming stress and frustration.
Digestion
CBD can significantly improve your digestive health by supporting the gut and regulating your appetite. It can also help reduce stress. , 
Energy & Focus
By helping manage cortisol levels and releasing dopamine and serotonin, CBD may be able to lift your energy levels, help you maintain focus, and give you mental clarity.
Our gummies, as well as the rest of the range of NextEvo Naturals CBD products are all suitable for vegans as well as being gluten-free and containing zero fillers or GMOs, making them products that you can really trust. Our goal is to keep you forging ahead and that's why we only use the purest ingredients available to create an overall well-balanced CBD supplement.
CBD is a legal substance and, unlike THC (the controlled substance found in cannabis plants with psychoactive properties), CBD will not register on standard drug tests.
All of our CBD products come with dosage information which is located on the packaging. Your dosage will generally depend on your experience with CBD - if you're completely new to CBD products, we recommend starting out with smaller doses, whereas somebody with more experience of CBD may need a stronger concentration.
Edible CBD supplements are relatively new to the marketplace and, despite their popularity, mandatory testing is not part of their regulation. This creates an opportunity for inferior CBD products to enter the market so it's integral to buy from a trusted supplier.
At NextEvo Naturals, our philosophy is not just to innovate, but develop and pioneer CBD supplements. That's why all of our products are physician backed and tested by a third-party lab.
NextEvo CBD gummies are discreet and easy to transport and take. They're incredibly simple to dose – and they taste great too!
Go for CBD gummies that have good peer reviews, are backed up by scientific research, and have been rigorously tested by an approved third-party lab.
Regardless of form, all NextEvo Naturals products include proprietary Smartsorb™ technology and deliver the benefits of CBD into your system in as little as ten minutes. CBD gummies add a little fun and flavor into the mix! Find out more about taking CBD in gummy form by reading our top five consumer questions about CBD gummies.
CBD gummies are much easier to dose, transport and take discreetly than oil, and they have an enjoyable flavor too. Gummies also have the potential to release CBD over a longer period of time, so they can last longer than CBD oil.
CBD gummies have cannabidiol (CBD) in them. You'll start feeling the effects of CBD gummies once you've digested them and they've entered your bloodstream. Some people report feeling effects including balanced stress, help with occasional sleeplessness, support with pain relief post-exercise, and more.
In the US, every state has different laws and regulations on driving after taking CBD. This is because some CBD products contain very small doses of THC, which could impair your driving ability depending on how your body metabolizes it. Check out your local laws on driving with CBD for further guidance.
NextEvo CBD gummies are THC-free, so you'll never have to worry about driving after taking CBD gummies.
There is no one-size-fits-all dosage for CBD gummies, it all depends on the effects you're
looking for and the potency level of your chosen gummies.
Most NextEvo CBD gummies contain10 mg of CBD, so you wouldn't want to take the same amount of these as you would 30 mg ones. Your dosage also depends on your body weight and the condition you are looking to address. Talk with your healthcare provider prior to starting any regiment containing CBD.
CBD gummies are incredibly easy to take. Once you've decided on the correct dosage for your personal needs, simply chew and enjoy the fruity flavor until the gummy is dissolved.
CBD is non-intoxicating, so it doesn't have psychoactive effects. It's a common misconception that CBD has these effects, due to the fact that both CBD and THC are derived from cannabis. THC is the compound that has psychoactive effects, not CBD. By law, CBD products can't contain more than 0.3 percent THC, which is the safe level that minimizes the likelihood of experiencing psychoactive symptoms.  
NextEvo gummies are all THC-free, so there are zero chances they'll get you high.
In general, you'll have to be 18 or older to purchase CBD gummies, though some states require you to be at least 21. Research your state's laws to find out whether buying CBD is legal, and how old you have to be to purchase.
CBD gummies have a myriad of effects and benefits. They can help you feel relaxed, therefore helping to improve sleep and your mood to reduce some symptoms of stress.
CBD gummies are taken orally. Ours have delicious and delicate perfumes like citrus and berry , and can help reduce inflammation and pain associated with exercise.