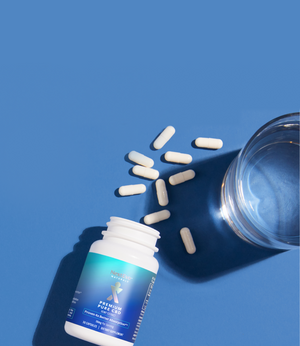 With 4x better absorption vs CBD oils
Explore the full NextEvo range of water soluble CBD products to discover your personal CBD solution today. All of our water soluble CBD products are all-natural and GMO-free providing fast-acting wellness when you need it.
All of our water soluble CBD products are designed to act fast and our natural formula actively works with your body in 10 minutes. Thanks to our Smartsorb™ technology, our premium CBD is turned into a water-soluble emulsion that's optimized for precise delivery and allows a higher concentration of CBD to interact with your body. This enhanced bioavailability ensures that you get the absolute most from your NextEvo CBD.
Water soluble CBD products are made to help our bodies break down CBD faster than other CBD concentrates in oil or pill form and are guaranteed to provide relief whenever and wherever you need it.
Read more +
Health Benefits of Water Soluble CBD
Water soluble CBD has a greater bioavailability than regular CBD, which means you feel the effects much more
quickly and reliably. It positively affects your outlook, wellness, and sleep cycle while also supporting your resilience against stress. It aids and bolsters many aspects of your physiology, including:
Mood
CBD is well-known for reducing occasional stress as well as having calming and relaxing properties, it can help support and improve your general mood.
Healthy Sleep
CBD may promote sleep quality and duration at night, while promoting wakefulness during the day. It could also help diminish the stress that affects you from falling asleep in the first place.
Immune Function
Evidence suggests that CBD supports the immune system by maintaining a healthy gut microbiota, and calming stress and frustration.
Energy & Focus
By helping manage cortisol levels and releasing dopamine and serotonin, CBD may be able to lift your energy levels, help you maintain focus, and give you mental clarity.
Exercise Recovery
CBD may boost your post-workout recoveryso you can perform at your optimum level. 
Water soluble CBD is essentially an emulsion rather than an oil and can interact with your body in a different way to traditional CBD oils and capsules. Generally, water soluble CBD solutions are composed of smaller CBD particles and this supports faster absorption which in turn allows it to act faster.
One key factor of water soluble CBD is increased bioavailability - this is the amount of a substance that is absorbed into your bloodstream. Water soluble CBD is made up of smaller particles that enables optimal absorbtion. Non water soluable formulas will be removed naturally through metabolism, but a more bioavailable CBD product allows a higher concentration to enter your body.
Water soluble CBD is a great choice if you're looking for a CBD product that's fast acting and easy to consume. Water soluble CBD is discrete and adaptable. It can easily transition into your daily routine whether you're using it in a private, social or professional environment.
Our groundbreaking Smartsorb™ technology has been developed to work with your body and increase the amount of CBD that you can absorb. This provides your body with more CBD per dose making it more effective than inferior CBD products.
All of our CBD products use this technology. Click here to find out more about Smartsorb technology™.
Water soluble CBD can be used to help with many ailments, just as with other CBD products. Our NextEvo water soluble CBD products are designed to help you be at your best, hit your personal goals and combat the stresses of daily life whatever path you're on. It's our aim to help you achieve next level wellness and we pride ourselves on the quality of our CBD and its ability to help you push your limits.
Everyone is different, so find a water soluble CBD product that suits your lifestyle and preferences. CBD capsules are a popular way of ingesting CBD. If you struggle to swallow pills, or you want something more fun, then CBD edibles such as gummies and dissolvable powders are a good option.