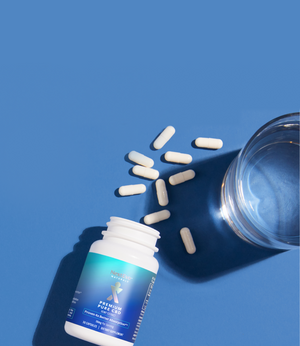 With 4x better absorption
Discover the range of NextEvo Naturals CBD Capsules - high quality CBD edibles pioneering the way forward for fast-acting, scientifically-backed CBD supplements.
At NextEvo Naturals, we are dedicated to developing next-level CBD capsules with 4x the absorption rate, allowing you to be at your best and sleep better within as little as ten minutes.
Our CBD capsules are easy to take and conveniently transition into your day to day lifestyle.We only use the finest ingredients and, like all of our CBD products, our CBD capsulescontain zero GMOs, fillers or additives and are compatible with vegan and gluten-free diets.
Read more +
Health Benefits of CBD
Our capsules provide all the benefits of easily absorbable water-soluble CBD in a convenient package. They are odorless and flavorless and give you access to all the benefits of CBD when you need it. CBD capsules support many critical physiological and psychological processes, including:
Mood
CBD is well-known for reducing occasional stress as well as having calming and relaxing properties, it can help support and improve your general mood.
Healthy Sleep
CBD may promote sleep quality and duration at night, while promoting wakefulness during the day. It could also help diminish the stress that affects you from falling asleep in the first place.
Immune Function
Evidence suggests that CBD supports the immune system by maintaining a healthy gut microbiota, and calming stress and frustration.
Energy & Focus
By helping manage cortisol levels and releasing dopamine and serotonin, CBD may be able to lift your energy levels, help you maintain focus, and give you mental clarity.
NextEvo Naturals CBD Capsules incorporates Smartsorb™ technology and improves the bioavailability of CBD, so that more CBD gets into your system, in as little as 10 minutes. 
Our convenient CBD capsules are incredibly convenient and will fit into your daily routine easily. They are small, easily transportable and straightforward to take - in any place that suits you, just as you would with any other tablet or capsule. CBD capsules are also a great way of keeping track of your dosage as each capsule is measured - this is not always the case with tinctures and CBD oils.
Smartsorb™ technology turns premium hemp-derived CBD ingested in the capsule into a water-soluble emulsion. This emulsion is optimized for precise delivery and timing, so that more of it gets into your body, and it works faster than oil-soluble CBD.
The result of this is a CBD Capsule that absorbs 4x better than oil-based CBD supplements and delivers its benefits in as little as 10 minutes. 
When using CBD Capsules for the first time it's important to take into consideration a number of factors that will determine how much you need to take. Firstly, the strength of the capsule will determine whether or not you need to take a larger amount - if you have a higher concentration, you won't need to take a lot. Secondly, consider your body type and metabolism - for example, if you have a smaller frame, you may not need as high a dose as a CBD user with a larger frame. 
The CBD market is still in its infancy and therefore mostly unregulated - product testing is not mandatory and unfortunately, this leaves a gap for the emergence of inferior products. One of the most important things to look out for when buying CBD supplements is a history of testing and development to ensure a balanced formula of quality ingredients. Read more about what to look for when choosing a CBD brand here.
At NextEvo Naturals, our philosophy is not just to innovate, but develop and pioneer CBD supplements. That's why all of our products are physician-backed and tested by a third-party lab.
CBD capsules can take a varying amount of time to work, depending on several factors including your metabolism, weight, how recently you've eaten, and the ingredients included in the capsule itself. For most CBD capsules though, you can expect to feel the effects of the CBD within 1-2 hours.
NextEvo CBD products are all made with SmartSorb™ technology, so that more CBD gets into your system. It can take as little as 10 minutes for our SmartSorb™ CBD capsules to start working.
CBD capsules are much more discreet than CBD oil - no one around will be able to tell what they are. CBD capsules also have no flavor compared to CBD oil, which makes them easier for most people to take.
CBD capsules are straightforward to use. You simply need to swallow them, which is often done with water to make the process easier. It's recommended you start with the lowest dosage and then work your way up until you find what's right for your needs. 
You can use 10mg CBD capsules for many different reasons. CBD has been reported to help with inflammation after exercise, stress, and focus by interacting with the endocannabinoid system.
Our CBD capsules are crafted with our clever SmartSorb technology, which guarantees four times better absorption, so you can use them for all of the above.
Choose CBD capsules that are backed by scientific research, have been thoroughly tested in an approved third-party lab, and have positive reviews from a reliable source.
CBD capsules are much easier to transport and administer discreetly, and they're flavorless too – so you don't need to worry about an unpleasant taste. The dose is precisely measured for you. And you can fit them into your daily routine by taking them alongside your regular supplements.
CBD capsules are absorbed into your bloodstream by passing through your digestive system. They may be helpful for digestion.