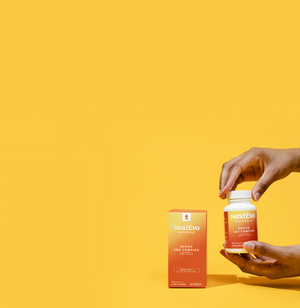 4x better absorption promotes a healthy response to inflammation
The Science Behind Smartsorb™ Technology
All NextEvo Naturals focus products blend clinically-proven hemp with Smartsorb™ to increase bioavailability and support your mental and physical health.
4x Absorption
fast acting
Clinically Proven
Water-Soluble
CBD Products for Recovery
The skin contains a high concentration of cannabinoid receptors, and when you apply CBD topically, it activates the endocannabinoid system through those receptors. The endocannabinoid system is responsible for many physiological processes, including muscle soreness, and immune function, which CBD can regulate and improve.
Yes, you can use CBD cream with other products such as capsules, gummies and powder. But start with small amounts and build up gradually until you find the right levels for your body, and don't exceed the recommended dosage.
CBD Cream is a topical product infused with cannabidiol (CBD), a compound derived from the cannabis plant. When applied to the skin, CBD interacts with the body's endocannabinoid system, which plays a role in regulating inflammation. CBD may help reduce inflammation by interacting with cannabinoid receptors in the skin and nearby tissues, potentially providing localized relief.
CBD Inflammation Capsules are ingested orally, while other CBD products like creams and lotions are applied topically. Capsules are designed to provide systemic relief by entering the bloodstream and affecting the entire body. This can be advantageous for addressing inflammation that is not limited to a specific area or for individuals who prefer a convenient and discreet method of consumption.
CBD Cream is generally considered safe for topical application. Some individuals may experience mild side effects, such as skin irritation or redness at the application site. To minimize the risk of adverse reactions, it's recommended to follow the product's usage instructions and perform a patch test on a small area of skin before broader application.
CBD Inflammation Capsules can be integrated into a daily wellness routine by following the recommended dosage on the product label. They offer a convenient way to potentially promote overall well-being. However, it's advisable to consult with a healthcare professional or wellness expert before adding any new supplement to your daily regimen to ensure it aligns with your specific health goals.
What Our Customers Are Saying
★★★★★

Ethan T.

I have increased to serving in the morning and serving at night. I do take it with food cemented. I use this for chronic back pain.
★★★★★

Andrea R.

I have been on topical steroids and other medications for a form of lupus. The redness, swelling and pain is gone and I am off all the other meds.
★★★★★

Jackie

First CBD cream that actually works. Years of running left my knees in rough shape. NextEvo CBD cream has given me so much relief.
The NextEvo Naturals Guarantee
NextEvo Naturals Water Soluble CBD is made with 100% all-natural US-grown hemp and is independently lab-tested throughout every stage of its formulation to ensure purity and potency. Our pure, highly concentrated CBD is also GMO-free, gluten-free, and suitable for vegan diets.
Our Water Soluble CBD incorporates Smartsorb™ technology, so you only receive the most precise dose of water-soluble CBD with an absorption rate that is 4x more efficient than regular, oil-based CBD products.
Our CBD products are developed by leading experts to help achieve next-level wellness. Every batch of our CBD is tested four times from the farm through final packaging. We pride ourselves on delivering you the highest quality CBD available. If, for any reason, you're not satisfied after 30 days of trying it, tell us, and we'll make it right.