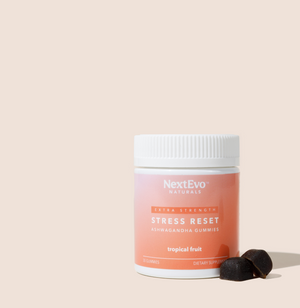 4x better absorption to reduce stress levels
The Science Behind Smartsorb™ Technology
All NextEvo Naturals focus products blend clinically-proven hemp with Smartsorb™ to increase bioavailability and support your mental and physical health.
4x Absorption
fast acting
Clinically Proven
Water-Soluble
Our bodies naturally produce their own endocannabinoids as a response to stress. Every day we deal with acute stress, and this is healthy. Supplementing your body with CBD is thought to support the endocannabinoid system, helping you deal with the feelings of stress. Discover more about stress and CBD in our blog.
Stress CBD Complex Gummies are discrete and easily transported from place to place so you can carry them in your bag or pocket and have them available when you want them. All of our CBD products are fast acting and highly absorbent so they start to get to work in as little as 10 minutes and absorb more CBD than other products*, thanks to our proprietary SmartSorb technology.
Using quality CBD products can help support your endocannabinoid system. There are also many other methods and wellness techniques available to help you become more resilient to stress. Read our blog post on stress and resilience to learn more.
This is really a question of experience and will vary from person to person. If you're familiar with CBD products, you may need a higher dosage to feel the benefits whereas somebody using CBD supplements to combat stress for the first time may need a smaller dose. If you regularly find yourself feeling like you need to better manage your daily stress, you should try using CBD gummies regularly to see how they work for you over time. Read more on this here.
CBD has been proven to create a sense of calm and may help support symptoms of stress. It can be taken in many different forms like edibles to have multiple times throughout the day, and capsules to ingest daily.
Always talk to your healthcare provider prior to taking CBD. The most typical dosage of CBD for stress is between 10 mg and 20mg a day.
Try taking one or two of our CBD gummies every day, and you should start seeing an improvement in your stress levels within a week. They're
crafted with our special SmartSorb™ technology which gives them four times better absorption, so you'll likely find them to be effective at reducing stress
A great way to take CBD for stress is to consume edibles throughout the
day. You can try out different dosages to see what works for you, but we recommend starting small and working your way up to find the perfect amount.
If you want to relieve stress throughout the day, try taking CBD capsules in the morning with your breakfast.
Our 10 mg capsules are perfect for a daily intake, and you can top up with a 10 mg CBD gummy later on if you need a little support.
Ashwagandha is a herb commonly used as an adaptogen to manage stress. Whole-plant extract ashwagandha has been shown to have a significant impact on reducing cortisol levels, increasing DHEA, decreasing stress , improving sleep duration, and increasing energy.
What Our Customers Are Saying
★★★★★

Sophie B.

hi

I have struggled with anxiety, and CBD oil wasn't helping. I heard about NextEvo from a podcast, and tried it out a couple months ago. Since then, I haven't looked back. It has made the biggest impact on my overall mood, stress, and anxiety levels.one of my friends now swears by NextEvo gummies too.
★★★★★

Aaron M.

Helps with stress and
pain from inflammation. Best that I have ever used.
★★★★★

Ryan

I have high blood pressure and can feel my anxiety as I find myself in stressful situations. Specifically my father-in-law's girlfriend stresses me out to the point I have to leave the house when they visit. I took two gummies right before they came over and I was able to tolerate her without feeling my blood boil. These gummies worked EXTREMELY well. My wife even noticed that I was notably different during the visit. Hats off to Next Evo for an amazing product!
The NextEvo Naturals Guarantee
NextEvo Naturals Water Soluble CBD is made with 100% all-natural US-grown hemp and is independently lab-tested throughout every stage of its formulation to ensure purity and potency. Our pure, highly concentrated CBD is also GMO-free, gluten-free, and suitable for vegan diets.
Our Water Soluble CBD incorporates Smartsorb™ technology, so you only receive the most precise dose of water-soluble CBD with an absorption rate that is 4x more efficient than regular, oil-based CBD products.
Our CBD products are developed by leading experts to help achieve next-level wellness. Every batch of our CBD is tested four times from the farm through final packaging. We pride ourselves on delivering you the highest quality CBD available. If, for any reason, you're not satisfied after 30 days of trying it, tell us, and we'll make it right.