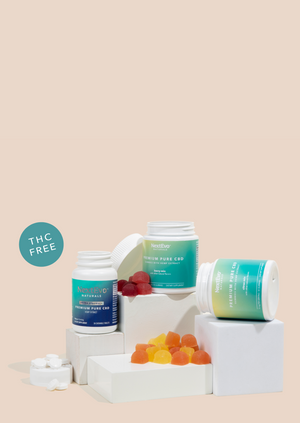 With 4x better absorption
Discover the complete range of NextEvo fast-acting CBD products. Carefully created with only necessary ingredients that combine science and nature to deliver next-level wellness, helping you to take care of your body and mind.
We're dedicated to providing the highest quality CBD products including CBD Edibles, CBD Gummies & CBD Capsules that are scientifically backed and free of any impurities or GMOs. Browse through our range to find the perfect product for you and feel the benefits of high quality CBD.
All of our CBD products have been formulated for faster absorption - 4x faster than average, meaning that you can feel the benefits within as little as 10 minutes, allowing you to push boundaries and take on the challenges of your day with calm and ease.
Read more +
Health Benefits of CBD
CBD products are increasingly popular for numerous reasons. A growing body of evidence indicates that various compounds in hemp-derived CBD can support and enhance the function of all kinds of physiological processes - including:
Mood
CBD is well-known for reducing occasional stress as well as having calming and relaxing properties, it can help support and improve your general mood.
Healthy Sleep
CBD may promote sleep quality and duration at night, while promoting wakefulness during the day. It could also help diminish the stress that affects you from falling asleep in the first place.
Immune Function
Evidence suggests that CBD supports the immune system by maintaining a healthy gut microbiota, and calming stress and frustration.
Energy & Focus
By helping manage cortisol levels and releasing dopamine and serotonin, CBD may be able to lift your energy levels, help you maintain focus, and give you mental clarity.
Exercise Recovery
CBD may boost your post-workout recoveryso you can perform at your optimum level. 
CBD is the abbreviation for cannabidiol, a natural substance that is one of the most commonly occurring compounds in the Hemp plant. CBD is directly extracted from plants and is 100% natural and has scientifically-backed research has shown that CBD can be beneficial to physical health and mental wellness.
No - CBD will not make you high. This is because CBD is a completely different compound to that of THC (the intoxicating constituent of the cannabis plant). 
Hemp-derived CBD products are non-intoxicating and have zero psychoactive properties. High-quality CBD products can be used safely in your daily routine to support health and promote wellbeing.
Yes, CBD products are legal but they must meet regulatory standards. The World Health Organization describes CBD as "generally well tolerated" and as having "a good safety profile". 
Therefore it is important to only use high-quality CBD products from trusted retailers. 
NextEvo Naturals is committed to rigorous scientific research to evaluate the safety and efficacy of our Premium Pure CBD products. Our SmartSorb™ technology has undergone groundbreaking research at Colorado State University.
Our technology is currently being studied to evaluate the inflammation response on the body at different CBD dosage levels. Our commitment to research allows us to develop breakthrough technology that is taking the CBD industry by storm.
At NextEvo Naturals, we take CBD and performance seriously. Our goal is to provide science-backed natural solutions that exist to improve your day-to-day wellness. That's why our CBD products are backed by physicians and only use natural ingredients without the use of GMOs or fillers.
We're dedicated to the evolution of wellness and the pursuit of enhanced quality allowing us to create CBD supplements that you can rely on wherever you are - we've got your back. 
We have developed SmartSorb™ technology which allows the body to absorb NextEvo Naturals's CBD within 10 minutes of ingesting and has over 4x the absorption rate of CBD than other common products. NextEvo Naturals guarantees a clean, fast-acting CBD product backed by scientific research. 
Finding the right product will depend on your preferred method of ingestion. CBD oils and creams are popular among people who prefer topical application. CBD capsules offer an alternative way of ingesting CBD. If you struggle to swallow pills, then CBD edibles such as gummies and dissolvable powders could be a better option.
CBD is non-psychoactive, which means that you can access its many benefits without feeling any psychoactive effects. It is thought to provide balance of stress and support with lack of sleep. There are many different ways of consuming CBD (creams, oils, gummies, cookies, tinctures etc), which can all bring different benefits.
Yes, CBD can be an important part of any wellness routine. First of all, it's great for sensitive skin and interacts well with other products. It can minimize the signs of aging and increase your focus , while also helping you stay calm at night. Lastly, it's a great step in the management of pain relief and inflammation
post-exercise.  
We think the best part about CBD is that it can be taken on the go - check out our delicious CBD gummies you can have when you're out and about.
Depending on how you take your CBD, it will take between fifteen minutes and over an hour to kick in. That's because when you ingest it, it has to go through your digestive system before it reaches your bloodstream. The time it takes to experience effects will ultimately depend on your metabolism and the goals you want to achieve.
CBD has been reported to offer many different health benefits, including stress reduction, pain relief post-exercise, better sleep, and improved focus.
Feel free to browse through our CBD health blog  if you want to learn more about its health
benefits!
We always recommend consulting with your healthcare provider prior to taking CBD. There are generally three different types of CBD strength: high strength, super strength,
and ultra-strength. Ultimately, it all comes down to your own metabolism and what effects you're looking for. We'd always recommend sticking to the manufacturer's guidelines as stated on the product packaging for the best and safest results.
For our 15 mg CBD capsules, for example, we recommend taking two to three gummies per day.
A normal dose of CBD is five to twenty-five milligrams per day. Anything above that could be
considered high, but it's just a case of figuring out what works best for your metabolism and your needs. We recommend starting with a low dosage and working your way up to your perfect dosage.
Unlike THC, CBD does not have any intoxicating effects. However, when it's taken in high doses, you may find CBD makes you drowsy. Our recommendation is to start with a low dosage and don't take too much at first.
Always consult with your healthcare provider prior to taking CBD. We recommend beginner CBD users don't exceed thirty milligrams per day. However, you can increase your daily dosage in time, if you feel like it's needed to achieve your desired effects.
It is recommended you do not take more than thirty milligrams of CBD per day, though you can slowly increase your daily dosage if needed.
Select products that have received positive reviews, are backed by scientific research, and have been thoroughly tested in an approved third-party lab. 
Regardless of form, all NextEvo Naturals products include proprietary Smartsorb™ technology and deliver the benefits of CBD into your system in as little as ten minutes.