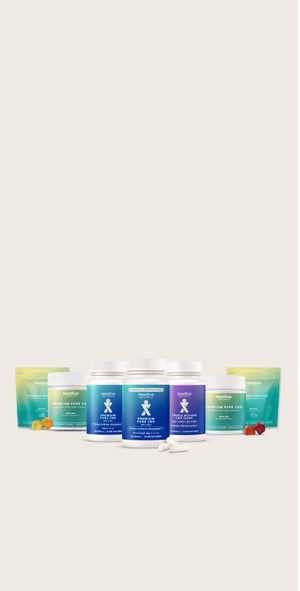 Select your favorite CBD below for clinically proven 4x better absorption
Customer Favorites
Our bestselling CBD products
View all
CBD is the abbreviation for cannabidiol, a natural substance that is one of the most commonly occurring compounds in the Hemp plant. CBD is directly extracted from plants and is 100% natural and has scientifically-backed research has shown that CBD can be beneficial to physical health and mental wellness.
No - CBD will not make you high. This is because CBD is a completely different compound to that of THC (the intoxicating constituent of the cannabis plant). 
Hemp-derived CBD products are non-intoxicating and have zero psychoactive properties. High-quality CBD products can be used safely in your daily routine to support health and promote wellbeing.
Yes, CBD products are legal but they must meet regulatory standards. The World Health Organization describes CBD as "generally well tolerated" and as having "a good safety profile". 
Therefore it is important to only use high-quality CBD products from trusted retailers. 
NextEvo Naturals is committed to rigorous scientific research to evaluate the safety and efficacy of our Premium Pure CBD products. Our SmartSorb™ technology has undergone groundbreaking research at Colorado State University.
Our technology is currently being studied to evaluate the inflammation response on the body at different CBD dosage levels. Our commitment to research allows us to develop breakthrough technology that is taking the CBD industry by storm
At NextEvo Naturals, we take CBD and performance seriously. Our goal is to provide science-backed natural solutions that exist to improve your day-to-day wellness. That's why our CBD products are backed by physicians and only use natural ingredients without the use of GMOs or fillers.
We're dedicated to the evolution of wellness and the pursuit of enhanced quality allowing us to create CBD supplements that you can rely on wherever you are - we've got your back. 
We have developed SmartSorb™ technology which allows the body to absorb NextEvo Naturals's CBD within 10 minutes of ingesting and has over 4x the absorption rate of CBD than other common products. NextEvo Naturals guarantees a clean, fast-acting CBD product backed by scientific research. 
There are a variety of CBD products available and finding the right one for you will depend on your preferred method of ingestion. Our CBD products are available as CBD capsules, CBD edibles and CBD gummies, so if taking pills isn't to your taste, you can have an easier option.