US Weekly's: 2023 Top Gifts

Stress CBD Complex Gummies 60ct
---
Double down on next-level stress relief with our delicious Stress CBD Complex Gummies. Harness the power of natural Ashwagandha and the healing properties of high quality CBD to combat stress from the inside out. Our gummies are packed with potent whole-plant Ashwagandha and CBD with superior absorption, making them more effective. - by reducing cortisol levels and regulating your body's endocannabinoid system. We pride ourselves in using only the highest quality, all-natural, US-grown hemp, and our CBD is independently tested for purity and potency. Try our CBD Gummies today and experience the stress-relieving benefits for yourself. 
Our Quality

All-natural CBD and a refinement process create wellness products with the highest quality standards. NextEvo Naturals Water Soluble CBD provides a high concentration of bioavailable CBD that acts fast. Our CBD products are developed by leading experts to help achieve next-level wellness. Every batch of our CBD is tested four times from the farm through final packaging.
Our Purity
Our Water Soluble CBD is made with 100% all-natural US-grown hemp and is independently lab-tested throughout every stage of its formulation to ensure purity and potency. We're proud to offer pure & potent, highly concentrated CBD that is GMO-free, gluten-free, and suitable for vegan diets.
Our Science
Our Water Soluble CBD incorporates Smartsorb™ technology, so you only receive the most precise dose of water-soluble CBD with an absorption rate that is 4x more efficient than regular, oil-based CBD products. 
Our Guarantee
Our CBD Gummies are developed to the highest standards and thoroughly tested. We pride ourselves on delivering you the highest quality CBD available. If, for any reason, you're not satisfied after 30 days of trying it, tell us, and we'll make it right.
Read more +
• Increases DHEA
• Decreases Cortisol
• Promotes Mood & Emotional Well-Being
• Promotes Mental Clarity
• Enhances Sleep
• Decreases Inflammation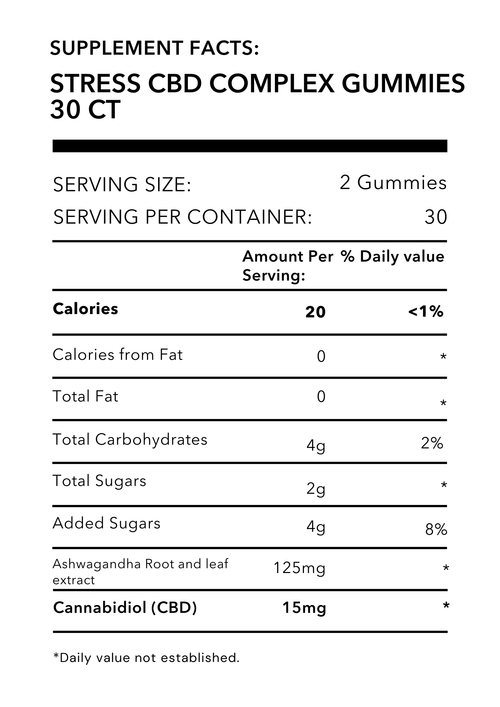 Corn Syrup, Sugar, Distilled Water, Natural Tropical Fruit Flavors, Pectin, Sodium Citrate, Maltodextrin, Stevia, Citric Acid, Malic Acid, MCT Oil (Coconut), Sodium Chloride, Carnauba Wax, Natural Color, Licorice Root Extract, Silicon Dioxide